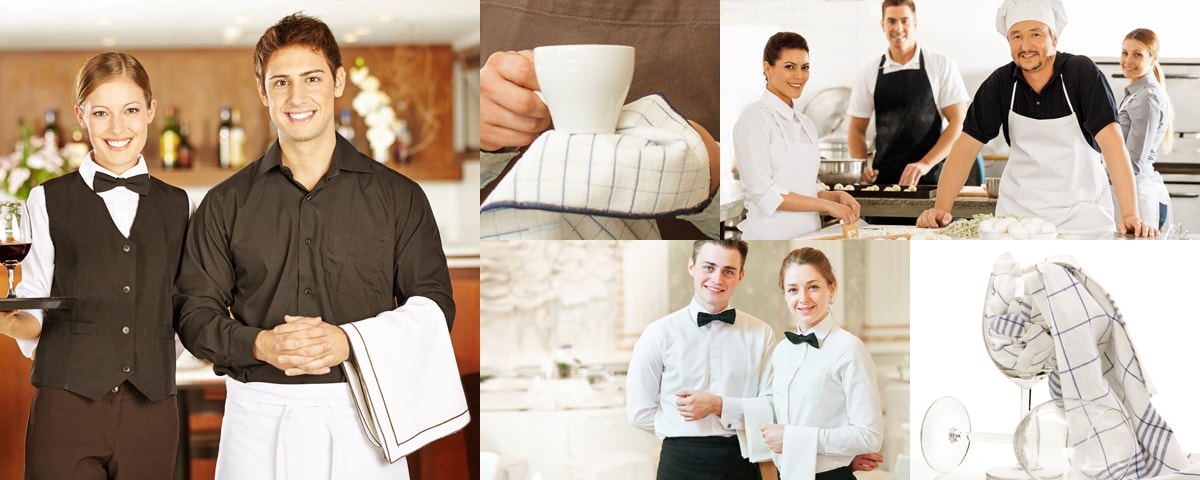 Restaurant Towel Service
More often than not, when it comes to restaurant linens, towels are on the sidelines – or worse, in the backseat. Kitchen towels hardly get the attention and value that tablecloths and table napkins get. This may be due to the fact that kitchen towels are hardly on the frontlines, so to speak; kitchen towels are usually used for the preparation of food and clearing away the table. And when it does get past the bar and the kitchen, these towels are mostly just kept inside the aprons of the food servers. This does not mean, however, that restaurant towels couldn't benefit from professional services.
Kitchen towels, bar towels, glass towels and wash cloths may be confined to their cleaning jobs, but they have to be well maintained, just like tablecloths and napkins – and for deeper reasons other than aesthetics and show of taste. Restaurant towels are exposed to all sorts of elements, including germs and bacteria that you surely don't want lingering in your food service business. Also, specialized kitchen towels – especially the ones that are made to polish your most precious crystal cocktail glasses – need to be maintained properly and carefully to keep that characteristic softness that keeps your crystals scratch-free.
Getting The Towel Service Treatment!
Hiring a towel service company is as much an investment as buying the highest quality restaurant towels, so you'd naturally want to make sure it is well worth it. When it comes to hiring the right towel service for your business, don't just rely on your gut feel, or your next-door neighbor's tales; go for the trusted expert in towel service referrals – Towel Service.
With Towel Service, you are assured to end up with a towel service provider that upholds the highest service standards within your area! We have rounded up the best towel service companies in town and put them all together in our exclusive partner list so you can be assured that all our referrals are nothing short of the best you can get – and all that without having to do anything but contact us for your service request.
Aside from kitchen towels, bar towels, and glass towels, Towel Service also accepts service requests for aprons, wash cloths, and bar mops. Interested? Call 888-775-0897 or fill out our online form today!