Towel Services in Arkansas
Towel Service has pre-qualified towel service partners throughout the Arkansas Greater Area. We offer a free and easy to use online search tool to help you get competitive quotes on towel service for your restaurant, salon, gym, hotel, spa, medical facility, or any other business that requires towels.
Call us at 888.775.0897 & find a towel service near you!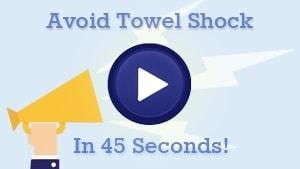 Watch Our 45 Second Video
Arkansas Towel Service
Whether you need a hundred towels a week for your small-town hair salon, or you need a thousand every day for your hospital patients, your need for quality does not vary. Join the list of countless happy and contented Arkansas establishments that found their perfect towel service provider easily, quickly, and efficiently through Towel Service. We have pre-qualified local towel service partners that specialize in various industries; your job is to let us know what you need and our job is to find you the perfect match.
Give us a call at 888-775-0897 to get more information about our towel services or to get a free quote for your business from a service partner that matches your industry and service needs.
Industries Covered
Our partners in Arkansas cover the following areas:
Quality Within Reach
We pride ourselves not only in the quality of our service partners – all of whom have been subjected to a thorough qualification process – but also in the way we do things. Our services are designed to help you find towel service partners without all the risks, hassles, and costs of doing it alone. It's quality that's easily within reach – it's quality at the tip of your fingertips; it's quality that's designed specifically for you and your business needs.
Pre-Qualification Process
To make sure that each referral is high quality and secure, we go great lengths to ensure the reliability of each potential partner, and thus we check for the following:
Business is at least three years old
Outstanding judgments and lien
Business permits and certificates
Better Business Bureau (BBB) lookup
No history of bankruptcy
Referrals from selected former clients
Business state filings
Stop wasting time and money on the wrong towel service companies. The best of Arkansas are with Towel Service. Call us today at 888-775-0897 to get a free quote from a partner company that matches your service requirements.