Towel Services in Michigan
Towel Service has pre-qualified towel service partners throughout the Michigan Greater Area. We offer a free and easy to use online search tool to help you get competitive quotes on towel service for your restaurant, salon, gym, hotel, spa, medical facility, or any other business that requires towels.
Call us at 888.775.0897 & find a towel service near you!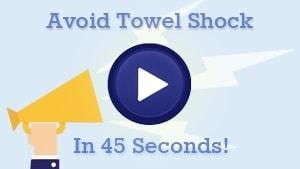 Watch Our 45 Second Video
Michigan Towel Service
Towel Service is an online tool that can helps Michigan businesses locate the ideal towel service company or supplier that they need for their operations. Whether your company or business is located in the Upper Peninsula or Lower Peninsula, Towel Service can help you get access to the top rated towel providers in the state of Michigan. Automotive plants and body shops in the Detroit metro area can use towel service for a full line of towel services and deliveries. The tourist industry along the Great Lakes can use Towel Service to find competitive rates for fresh towel deliveries and cleaning. Additionally, hospitals, restaurants and gyms all across Michigan get benefit by searching out towel service companies using our online database.
We Help Michigan Businesses Find Top Towel Services In Their Area
At Towel Service, we recognize the great diversity of Michigan's economy. This is why we continue to work with many companies in the towel service and supply industry that service these sectors:
Towel Service Uses Stringent Quality Standards In Its Selection Process
The most important thing to the well being of any business is the it offers high quality products and serves to its consumers. At Towel Service we checked each and every towel supply company and service provider thoroughly, before deciding whether they will be included in our database or not. Our company also continuously asks feedback from past clients. We ask whether towel service companies in our database continue to maintain a high level of service and on time towel deliveries. Here are the measures that we use to determine whether a company is fit to be featured in our listings:
Business is at least three years old
Outstanding judgments and lien
Business permits and certificates
Better Business Bureau (BBB) lookup
No history of bankruptcy
Referrals from selected former clients
Business state filings
Towel Service will help Michigan businesses get access to the very best towel services and suppliers in the state of Michigan. Call us at 888.775.0897 and we will match you with a top rated towel service company in your area. You have no risk, obligation or costs when you use Towel Service.