Towel Services in Minnesota
Towel Service has pre-qualified towel service partners throughout the Minnesota Greater Area. We offer a free and easy to use online search tool to help you get competitive quotes on towel service for your restaurant, salon, gym, hotel, spa, medical facility, or any other business that requires towels.
Call us at 888.775.0897 & find a towel service near you!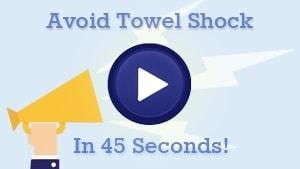 Watch Our 45 Second Video
Minnesota Towel Service - Your Business is Our Priority
Our Minnesota Towel Service is able to help you meet your service industry needs. Whether you're a restaurant, hospital, hotel, or any other type of business, your business relies on having clean towels on a regular basis to provide to your clients. We're able to provide this service at a lower cost than many of our competitors, ans we also make it possible to help you find the right service at the right price. This is made possible by our years of industry expertise and our record of highly satisfied clients in Minnesota telling us how much they appreciate the work we do.
Who We Can Help
Many different companies rely on us for the right towel provider. We're here to help in any way possible, particularly for those hospitality-oriented businesses whom need fresh towels.
We Take You Seriously
We wouldn't match any of our clients with the wrong provider. For that reason, we take our job here very seriously. We always want to verify that we are only working with the best and the best of the industry. All of our providers have been vigorously screened through a thorough process which goes very far to weed out the bad providers. Once we have found the best and most reliable, we are there to provide these companies to you.
Business is at least three years old
Outstanding judgments and lien
Business permits and certificates
Better Business Bureau (BBB) lookup
No history of bankruptcy
Referrals from selected former clients
Business state filings
Consult With Us First
Please be sure to consult with us first before you make the decision to go with a towel service provider. We'll provide you with a quote from a verified provider in the Minnesota area, and all you'll need to do is give us a call at 888.775.0897 and we will connect you with a local provider. A quick call can save you many headaches and frustrations in the long run so as to avoid any trouble with finding the right service.