Towel Services in Oklahoma City, Oklahoma
Towel Service has pre-qualified towel service partners throughout the Oklahoma City, Oklahoma Greater Area. We offer a free and easy to use online search tool to help you get competitive quotes on towel service for your restaurant, salon, gym, hotel, spa, medical facility, or any other business that requires towels.
Call us at 888.775.0897 & find a towel service near you!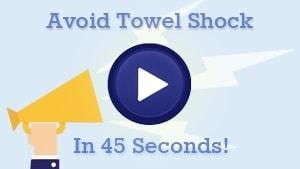 Watch Our 45 Second Video
Oklahoma City, Oklahoma Towel Services
Oklahoma Towel Service in Oklahoma City works with agents all over Oklahoma. These businesses are prequalified to service our customers. The convenient online site makes it easy to locate service persons to take care of towel needs. Get towels for your garage, spa, hotel, gym or restaurant. Oklahoma Towel Service lets business focus on business not towels. The whole process of towel delivery is keep-cleaning towels simple for customers. The point is to add convenience, helping the customer concentrate on success.

Businesses use towels every day. Cleaning these necessary items can get expensive. Keep an eye on the growing market and let Oklahoma towel service provide your company with towels for your business. We provide fast and friendly service with a color selection representative of your establishment.

Remove the worry about clean towels with convenient disposal and towel delivery that coincides with your needs. A wide selection of colors is available to comply with company-uniformed colors. Begin your Oklahoma towel service with no upfront investment cost.

Industries covered:
Staff associates go through applications, fitting customers with the services they need. Each company, large or small is handled with care. Evaluations are made matching services with customers.

Collaborate with the best towel distributors in the business. Our requirement for distributor is tough. Service stores undergo a rigorous background and financial investigation before becoming a part of our extended company.
Business state filings
No history of bankruptcy
Outstanding judgments and liens
Referrals from selected former clients
Business permits and certificates
Business is at least three years old
Better Business Bureau (BBB) lookup
Try Us Today and See What a Difference We Can Make
Whether a business is healthcare related, security or industrial, we have towels to fit the job. Take advantage of our free hotline service and find the Oklahoma towel service representative in your state by calling 888.775.0898 today.