Towel Services in South Carolina
Towel Service has pre-qualified towel service partners throughout the South Carolina Greater Area. We offer a free and easy to use online search tool to help you get competitive quotes on towel service for your restaurant, salon, gym, hotel, spa, medical facility, or any other business that requires towels.
Call us at 888.775.0897 & find a towel service near you!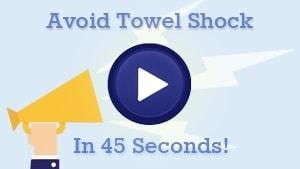 Watch Our 45 Second Video
South Carolina Towel Service
Towel Service is an online database that features all of the top rated towel suppliers and towel cleaners located in the state of South Carolina. Our company can help you find the ideal towel delivery service company or washing company for your South Carolina business. Whether you are involved in manufacturing, the medical field, hospitality, tourism, recreation or the dining industry, we are the number one tool to to find trusted and competitively priced towel services. It does not matter if you are located in the North Country, mountains, capital area, ocean side or even on an island. Our database is sure to feature a supplier that can reach you.
Make Sure Your South Carolina Business Has The Towel Services It Requires
We at Towel Service know that each business has its own requirements and time frames when it comes to towel services and deliveries. Our company works with numerous firms in the towel service industry that specialize in servicing the following industries:
Quality Is At The Heart Of Our Business
A business that fails to provide a quality service or good at a competitive price is doomed to fail. We understand this at Towel Service. All of the companies in our exclusive network are thoroughly checked for quality, promptness and customer feedback from past clients. This ensures that you will only work with the best of the best towel suppliers and washing companies. Here is some of the things we look at, when we check a company out.
Business is at least three years old
Outstanding judgments and lien
Business permits and certificates
Better Business Bureau (BBB) lookup
No history of bankruptcy
Referrals from selected former clients
Business state filings
You are free to use our services at anytime and at no cost to you. Towel Service's online database is free for businesses in South Carolina to browse. Call us today at 888.775.0897 and one of our towel specialists can help you find a towel supplier that services your industry, region and that fits your budget goals.