Towel Services in Charleston, South Carolina
Towel Service has pre-qualified towel service partners throughout the Charleston, South Carolina Greater Area. We offer a free and easy to use online search tool to help you get competitive quotes on towel service for your restaurant, salon, gym, hotel, spa, medical facility, or any other business that requires towels.
Call us at 888.775.0897 & find a towel service near you!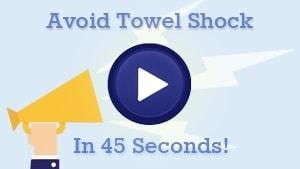 Watch Our 45 Second Video
Charleston Towel Service
Charleston Towel Service is a great tool that helps businesses in almost every field find Towel providers and rental companies. Towel Service has done exceptional research on the different towel companies in the Charleston, SC area to make sure your business receives quotes and service from only the highest quality, trusted towel service companies in the area. Whether you need towels for a sporting event, party, theme park, or more, our friendly and professional towel specialists are ready and waiting to help find the towel and uniform service that is best for your business.
We Cover Many Industries
Towel Service and our trusted partners in the Charleston, SC area specialize in the following services:
Services Personalized to Your Business
Every business has a unique combination of needs, so we know that a cookie-cutter one size fits all approach won't work. In order to assure that you receive the highest quality service, we carefully go through each and every service inquiry and match you with the most appropriate towel service company based on your individual specifications. You can be assured that your referral will be treated professionally and given a carefully laid out plan to ensure you receive the right services you need from a trusted partner close to you.

Our Commitment to Quality
We have used an extensive set of criteria to screen towel service companies in the Charleston, SC area to ensure you only get paired with the best of the best. We use the following to resources to evaluate companies:
Business state filings
No history of bankruptcy
Outstanding judgments and liens
Referrals from selected former clients
Business permits and certificates
Business is at least three years old
Better Business Bureau (BBB) lookup
To further assure you, our team will request feedback from new customers throughout the year to ensure that they are satisfied with the services they received, so that our partners can continue to carry Towel Services' stamp of approval.

Call us today at 888-775-0897 to receive a quote from a qualified towel service provider in your area who is ready to provide the services your business needs today.