Towel Services in New Haven, Connecticut
Towel Service has pre-qualified towel service partners throughout the New Haven, Connecticut Greater Area. We offer a free and easy to use online search tool to help you get competitive quotes on towel service for your restaurant, salon, gym, hotel, spa, medical facility, or any other business that requires towels.
Call us at 888.775.0897 & find a towel service near you!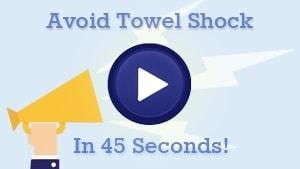 Watch Our 45 Second Video
New Haven, Connecticut Towel Services
Hospitals, hotels, restaurants, gyms, and other businesses can greatly benefit from New Haven Towel Service. We provide the tools your business needs to obtain quality towel rentals and suppliers. We understand that you only want the best and have done our research to ensure that only top quality towel service providers are used in this process. There are many reasons why a person or business needs a provider of towels, and no matter what your needs are we can help find the best solution available.

Business sectors that Towel Service specializes in:
We Understand Your Individual Needs.
No two businesses are alike and we understand that every situation has different needs. The service providers we have partnered with are pre-qualified in order to ensure that you will get only the best towel providers.
We understand that different business types have very different business needs when it comes to commercial Towel services. The towel service providers that we choose all meet these qualifications:
Business state filings
No history of bankruptcy
Outstanding judgments and liens
Referrals from selected former clients
Business permits and certificates
Business is at least three years old
Better Business Bureau (BBB) lookup
Try Us Today and See What a Difference We Can Make
We strive to bring our customers only the best services and in doing so will regularly request feedback from our clients to ensure that we operate with only the highest standards. For more information, please call 888.775.0897.