Towel Services in Amarillo, Texas
Towel Service has pre-qualified towel service partners throughout the Amarillo, Texas Greater Area. We offer a free and easy to use online search tool to help you get competitive quotes on towel service for your restaurant, salon, gym, hotel, spa, medical facility, or any other business that requires towels.
Call us at 888.775.0897 & find a towel service near you!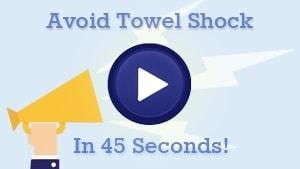 Watch Our 45 Second Video
Amarillo Towel Services
At Towel Services, we have taken the guess work out of getting towels for your gym, hotel, spa, medical facility, restaurant or any other business by pre-qualifying our towel service partners in the Amarillo, Texas, area. This automatically frees up your time to focus on other important factors in your business. It may even let you go home early, but there is no guarantee of that. Instead of spending hours making wasted phone calls and waiting for people to return emails, you can trust our partners to provide the towels that your business needs.
Connect with us today by calling 888.775.0897.
Amarillo's economy is made up of automotive, aerospace, metal fabrication and many other businesses that cannot tolerate delays. Despite the city's isolated location, it must keep up with other businesses located in Texas, Oklahoma and Kansas. Therefore, we have pre-qualified our partners ensuring that they have passed the highest quality standards, so they are prepared to offer you outstanding towel service.
Take a second and call our hotline today at 888.775.0897. We will provide you with a price quote from a pre-qualified provider. You are not required to agree to any service. You must call us to get the process started.
Trust Our Towel Matchmaking Service
We understand that your business needs are as unique as you are as an individual. Therefore, your request is treated individually. It is not automated in our system. We carefully work to match you to the best possible services that meet your individual needs. We take all the guest work out of providing great towels for your business. When you share your needs with us, then we work hard to make sure that those needs are met accurately and on time.
Only the Best Towel Services in Amarillo
We have carefully screen our Amarillo towel services, and only the very best ones have made our list of possible candidates. We do not rely on the company itself, but search every available record to learn as much as we can about a company. We are extremely strict about who qualifies for our list of candidates because we want to provide you with the best possible service and save you the hassle of doing it yourself.
Business state filings
No history of bankruptcy
Outstanding judgments and liens
Referrals from selected former clients
Business permits and certificates
Business is at least three years old
Better Business Bureau (BBB) lookup
We want to make sure that all of our customers are satisfied with the service that they are receiving from our carefully prescreened providers, which is why we are available to listen to customer feedback.